---
PROJECT MANAGEMENT AS A SERVICE
15+ YEARS PROJECT DELIVERY
---
Our approach to program and project management is to understand your culture and right-size practices to fit your organizational needs, aligning our recommended structure, tools, and processes with your goals and resources.
BFC can lead your organization in establishing or enhancing an effective Project Management Office (PMO) and build your project, program, and portfolio management capabilities. If time is of the essence, one of our project leaders will rapidly investigate and interview stakeholders to begin adding value on day one.
Whether rescuing a project that is off course or developing methodologies to enable future project success, we have the expertise and the track record to get you there.
Project Management is more than organizing dates and tasks. Project Management is more than just a skillset. Project Management when done correctly can save companies millions, prevent schedule delays, ensure team motivation, prevent project cost overruns, and reduce sustainability risks for the organization in the long-term.
We recognize the importance of properly managing a variety of projects simultaneously. Our professional staff is committed to ensuring that your projects are in line with your company's long-term goals. You'll be able to make smart choices, allocate resources effectively, reduce risk, and boost profits thanks to the knowledge and experience we bring to the table. With our help, your portfolio of projects can become a driving force for progress and new ideas.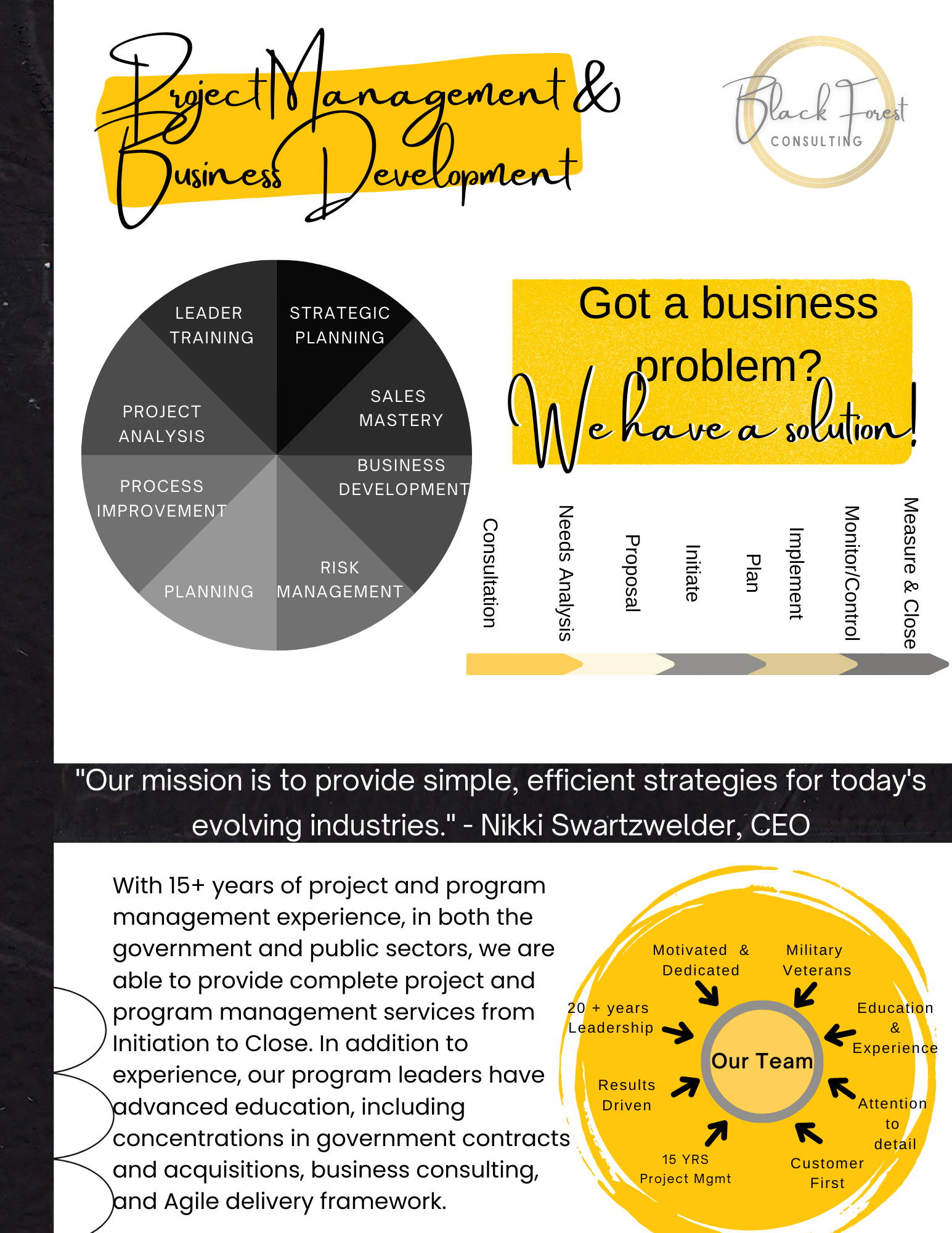 ---
Elements of Project Management & Issues WE SOLVE!
PROJECT PRIORITIZATION & PORTFOLIO MANAGEMENT
We've experienced 'horror' suppliers and solutions previously, so we know that picking the appropriate partner is crucial for this project. What are some best practices for creating an effective RFP?​

 

Many different types of clients and/or departments will be affected by our project. Before moving further, let's make sure we haven't forgotten anything vital.​​

 

Many different types of clients and/or departments will be affected by our project. Before moving further, let's make sure we haven't forgotten anything vital.​​

 
There is a lot at stake with your RFP. Your plan has the potential to be very successful if executed properly. If your RFP is badly written, it could cause serious problems, such as the termination of the project or legal action.​
We have the expertise to assist you in creating a compelling RFP. Allow us to ensure the success of your solution by drafting an RFP tailored to your specifications within your time, quality, and cost restrictions.​
Your RFP is only one of many possible failure points in big projects that involve numerous moving elements.

Fortunately, there are already established best practices to follow, so you may avoid becoming an RFP expert if you don't have the time to do so.​ We understand what goes into creating the ideal RFP for complex, high-stakes projects. With our help, your request for proposal will be accepted.​​
With the right strategy and support, your PMO can be a celebrated leader in your industry. We can combine our expert knowledge with your vision and skills to help you stay at the leading edge of innovation, at the top of your game.
"The stalled project must be unblocked immediately.​"
"We require an experienced expert to either join or take charge of our project because our team is short on a crucial job.​​"

"We're finding it difficult to function as a distributed virtual team. How can we enhance our productivity? What methods and resources are available to us?​​​​​"

One thing is clear- Your project must produce results, whether it's over budget, behind schedule, or a redo of an earlier attempt.​

We'll help you cut costs and get past obstacles quickly so you can start building a new record of achievement.​​​

You may rely on us to help you find qualified candidates for key positions in project management, business analysis, organizational change management, testing, and training.​
Do you want your staff to feel connected, confident, and part of the group even when working in a virtual or hybrid setting?​ Whether your organization is having trouble with cross-time zone communication, task handoffs, productivity, single-document collaboration, or cultural translation into virtual spaces, we can help you achieve better results in virtual or "hybrid" settings.​​​​​
All too often, "we're making important project decisions based on emotion or whim, rather than strategy and discipline."​​​​​​
"Without inundating project teams with paperwork and meetings, we need greater insight into how our projects are faring.​​​​​​​"

"To make sure our money is well spent, we need a more efficient system for managing capital from planning to execution."​​​​​​​​

Is there a way to ensure that your company is focusing on the proper issues?​

When is it appropriate to "kill" a project, and how do you accomplish that?

If you jump on every promising concept, you can end up working hard for very little reward. Based on your sector, company culture, strategic goals, and business model, we can help you devise a method for prioritizing your projects.

Everyone can contribute their best work when they can see where they stand in a project.​ Leaders are free to lead and project managers (PMs) are free to focus on results when they have access to accurate information about the status of all projects. Think of the positive effects this change could have on your company.

How can you ensure the validity of pivotal choices? How do you know you're putting your money where it will do the most good?​ We can help you adopt a process that is both strict enough to prevent wasteful risk and misunderstandings and adaptable enough to be accepted by you and your team. Why waste a successful method if you don't employ it?​